Coach of the Year 2016
23 May 2017
Sam Haslam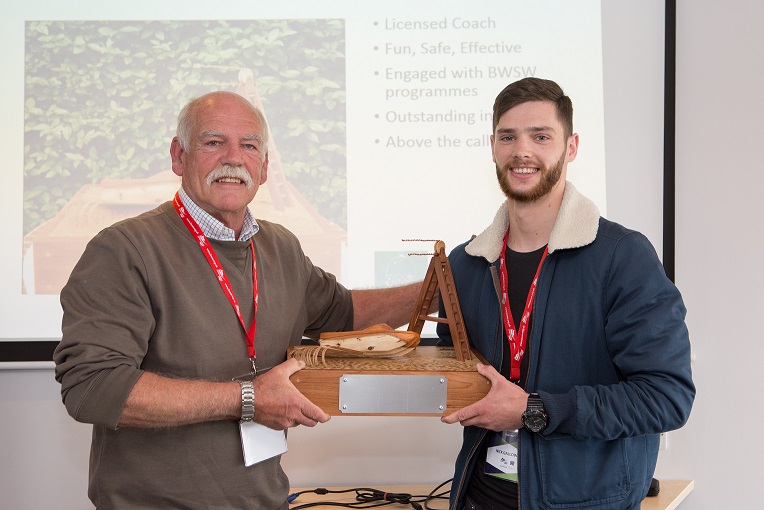 Congratulations to Nick Galloway on winning the BWSW Coach of the Year Award 2016. Nick (pictured) was presented with the NEW Coach of the Year Trophy by Tony Green (Judging Panel) at this years Coaching Conference.
There was over 100 nominations for this years award, which was made up of Straight-line Cable, Boat and Main-Line Cable Coaches from all over the country. There was many strong nominations but it was Nick Galloway from Fox Lake Adventures (Scotland) that really stood out from the crowd demonstrating real care and attention to his particpants and great efforts made during the 2016 season.
The judging panel consisted of Tony Green (pictured), Rod Beattie and Sam Haslam. Each came up with a short-list of coaches, judging each nomination based on the following criteria:
Licensed Coach - were they a licensed coach?
Fun, Safe, Effective - did they delliver sessions that were safe, fun and effective?
Engaged with BWSW Programmes - did they deliver Cutting Edge / On the Edge for example?
Above the call of duty - did they go beyond their responsibilities as a coach at the club

Generally outstanding in 2016

- did they excel themselves in the 2016 season?
Many people (particpants, parents and friends) had nominated him for the award and a lot was said about his achievements / efforts over the 2016 season. It was however the following that the Panel felt made Nick stand out and made him worthy of the Award:
Coaches with great enthusiasm and encouragement.
Is an inspiration for so many - so many junior riders look up to him and see him as a real hero.
Understands what each person wants to get out of their session and tailors the session to their own needs.
Pushes his riders to achieve things they never thought they could do.
Accompanied many (in his free time) to grassroots competitions, volunteering his time to make sure his riders do the best they can and achieve their goals.
Developed a Youth Development Programme at Fox Lake, including a winter conditioning programme to keep the kids motivated, fit and ready for the 2017 season (braving the ice and snow).
Worked very hard at encouraging a ladies section at the park and has provided pre-competition coaching sessions for female riders to help develop their skills and confidence ready for competition.
Goes above the call of duty - for example Nick visited one of his riders in hospital and regularly kept in touch with their recovery from an injury.
As a Licensed Straight-Line Cable Wakeboard Coach, he is the first cable wakeboard coach to ever win the award (first extablished in 2004) and the first name to be engraved on the NEW Coach of the Year Trophy (pictured below).
A congratulations also goes out to the runners up for this years award which includes Lee Debuse (LDB Wake School) and Suzi Nightingale (Just Wake).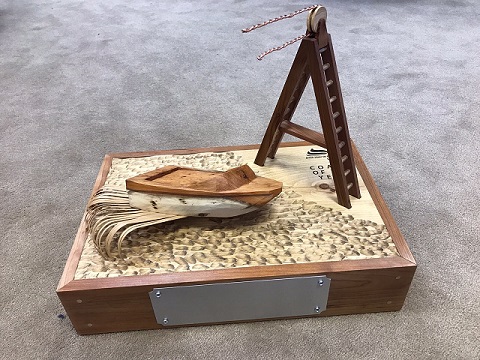 The Coach of the Year Trophy was hand carved by Sim Bradley (Oak & Awl). The cable tower made with oak and the ski boat made from yew wood found on St Annes Hill which overlooks Thorpe Lakes (Old BWSW HQ). Mounted on douglas fir from Sim's (Oak & Owl) home in Canada and wrapped in cherry wood for a clean finish.