TALENT DEVELOPMENT PROGRAMME
Overview
The British Water Ski & Wakeboard Talent Development Programme (TDP) is supported by Lottery funding
via Sport England and works exclusively with the three disciplines of cable wakeboard, boat wakeboard and
tournament water skiing.
The programme uses a 'training camp' structure with a significant number of camps organised for each
discipline throughout the calendar year. This structure has been developed to providethe opportunity for
talented athletes to access the best coaching and facilities across the country.

The programme has successfully implemented a strategy to develop skiers and riders to competein the GB
squads. Athletes on the programme are those who display great potential and commitment to the sport along
with those who have won medals at National, European and World level.

To fully access the talent pool of skiers and riders across the UK, we have broadened the scope of the Talent
Development Programme within the England Talent Pathway (detailed in the diagram below). The key aim of the
programme is to identify and nurture talent, whilst promoting self-development and education both within and outside
the sport.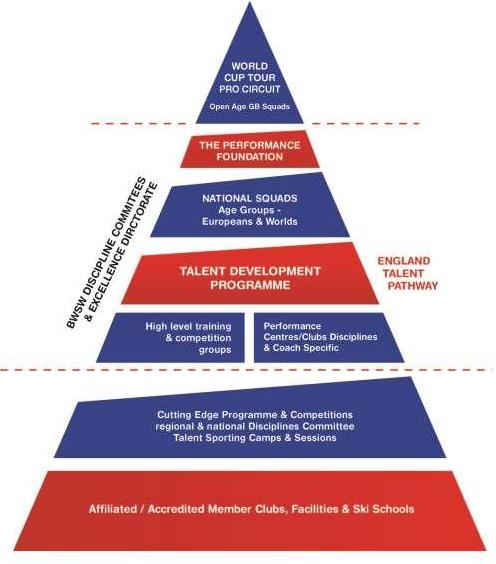 Becoming part of the programme
British Water Ski & Wakeboard are always interested in welcoming new talented athletes to theTalent Development
Programme.
The programme is aimed at individual athletes aged between 14 and 21 and will support the development of these
talented riders and skiers in a number of ways;

• Access to the UK's best coaches
• Access to the UK's best facilities
• Sports science support; nutrition, sports psychology, strength & conditioning
• Performance analysis
• Opportunity to obtain funding to attend major competitions

(Please note; whilst the programme will focus on above age ranges, there may be exceptional circumstances where athletes
from outside of this range are included in the programme's activities).

Athletes on the programme are reviewed yearly however additions/removals of athletes can occur at any time. In order to
be eligible for consideration to join the programme, individuals will need to hold a BWSW competition licence and/or have
completed their Cutting Edge Gold award.
Entry into the programme will be based on the following criteria:

• Athlete performance; competitions and events
• BWSW Discipline Committee nominations and recommendations
• Individual Coach feedback and recommendations
• Nomination by the Talent Development Programme Lead
The programme is open, accessible and inclusive for all athletes within the tournament water ski, cable wakeboard, boat
wakeboard and disabled disciplines.