Support
Once a water skier or wakeboarder is part of the BWSW Talent Development programme,
they have the opportunity to access a number of support systems that relate to international
competition, personal development and injury prevention/rehabilitation.

Competition Support:
A portion of the funding from Sport England is used to assist our athletes with competition expenses associated
with attendance at key European and World events. The funding assists with travel, accommodation,
pre-competition practice sets and other associated costs.

Important markers along the developmental pathway are European and World title events at specific age
categories for each discipline we support:
Tournament Water ski
• U14
• U17
• U21
Cable and Boat Wakeboard
• U14 (BOYS/GIRLS)
• U19 (JNR MEN/JNR LADIES)

Success in the above age categories has historically proved to be a sound indicator of future achievements
within the sport at Elite level. Across an average four year cycle there can be as many as twenty four European
and World title events taking place. It is vital for us as a Talent Development programme and a National
Governing Body to send a full complement of athletes to these key events. This is not only in the hunt for medals,
but to monitor our athletes and give them the essential experience of attending international competitions.



Sports Medicine, Physiotherapy and Injury Prevention:
The previous talented athlete support schemes (Excel and World Class programmes) used a number of services
for sports medicine and physiotherapy support. In order to support the new look Talent Development programme
we have continued our relationships with these service providers as their knowledge and expertise within the sport
is second to none.

The BWSW Talent Development programme has also taken steps to physically assess its athlete's pre and post
season. Athletes are invited to attend two athlete profiling days a year which allows the Talent Development team
to identify areas of strength and weakness. During the Talent Development camps held across the year, athletes
will learn new ways to prepare their body and also recover from the rigors of training. All of these steps are being
taken not just to educate the athlete but also to minimise the occurrence of injury.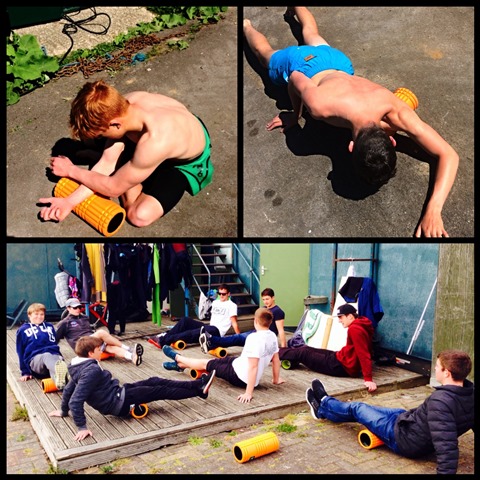 Foam rolling techniques displayed by our Cable
Wakeboard and Tournament Water Ski athletes.
(Top Left/Right: Photo by Kevin Wright)


Coaching Support and Resources:
We utilise the best discipline specific coaches and facilities that are available within the country to support the
delivery of the Talent Development programme. We also look to offer the opportunity to other UKCC qualified
coaches to be involved in the delivery of the camps. This is to ensure that the pool of quality and experienced
coaches continues to grow through out each discipline.

To ensure that our coaches continue to develop their skills and offer the most effective coaching advice to the
athletes involved within the programme; we also deliver a series of coaching seminars and training sessions
which bring together the Talent Development programme coaches at one venue. These sessions are used to
promote the sharing of ideas, feedback from the Talent Development camps and to discuss coaching methods.
The coaches involved in the delivery of the programme also require the use of modern technology to help with
session delivery, performance analysis and athlete monitoring and we support this by purchasing software and
equipment to ensure that the coaching and athlete experience is the best it can be.