UKCC Level 2 Water Ski & Wakeboard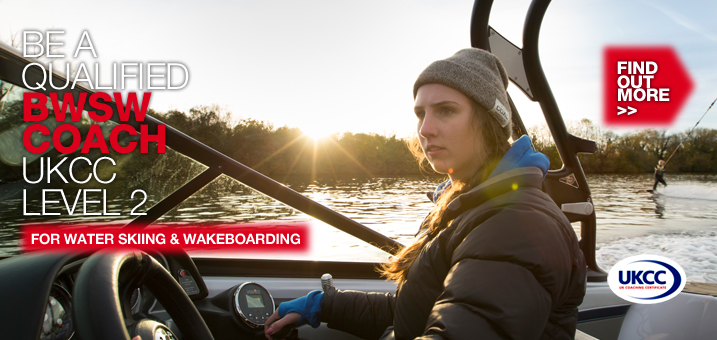 Upcoming Course Dates:
| | | | |
| --- | --- | --- | --- |
| County/Area | Venue | Level 1 Dates: | Level 2 Dates: |
| Surrey | CJM Ski & Wake | 1-2nd October 2022 | 3-7th October 2022 |
| Surrey | CJM Ski & Wake | 18-19th March 2023 | 20-24th March 2023 |
| Cornwall | Camel Ski School | 1-2nd April 2023 | 3-7th April 2023 |
Please note that we are constantly updating our courses so please register your interest with us so we can keep you updated with the latest course dates.
Click here to register your interest
Who is it for?
The Level 2 Coaching Certificate is recommended for volunteers that coach regularly at their club and anyone who will be working as a paid coach e.g., for a ski school or holiday company (such as Neilson Active Holidays). The qualification meets the minimum standard for coaching unaccompanied at any level within the sport and is therefore recommended to coaches working with any level of participant from beginner to advanced. On successful completion of the qualification, candidates will be certified to coach unassisted anywhere in the UK and abroad.
What do you learn?
The UKCC Level 2 is a 5 day coaching course and covers many areas relevant to being a SAFE, FUN and EFFECTIVE coach including safety practices, delivery skills, customer service, risk assessment, advanced boat driving etc.. You will ski/wakeboard, drive and coach for each other on the course up to the standard of doing such tricks as Ollie, Backside 180's, Wake Jumps, surface 360's, and crossing the wakes and perfoming deep water starts on 1-ski. All candidates must complete the BWSW Level 1 beforehand but both courses can be completed together over a 7 day course.
Before the course
Prior to attending the course, all candidates must have the following:
• BWSW membership
• BWSW Level 1 coaching qualification (candidates can book both courses at the same time in a 7day course).
• BWSW Ski Boat Driver Level 2 (SBD2) AND have at least 10 hours experience driving for water skiers/wakeboarders.
• Be aged 16 years or over (note, to gain qualified status coach you must be 17).
• Be able to get up on 1-ski and cross the wakes and be able to perform a 180, Wake Jump and an Ollie on a Wakeboard (note, those who are unable to perform these will need to demonstrate experience in delivering these skills).
Before certification
Prior to receiving BWSW qualified status, all new coaches must:
• Hold an attendance First Aid certificate (online courses will not be accepted).**
• Hold a Safeguarding and Protecting Children certificate.**
• Hold an Enhanced Disclosure check (criminal record check).**
*for more information please click here


How much does it cost?
BWSW Level 1 & UKCC Level 2
UKCC Level 2 only
From a BWSW club
£695
£495
Not from a BWSW club
£795
£595
BWSW club course
contact coaching@bwsf.co.uk

Overseas

contact coaching@bwsf.co.uk
How do I book?
To book onto a course candidates must complete the online application form - click here - and pay the candidate fee in full. Payments can be made over the phone, by cheque or by bank transfer.
Funding for Candidates
If you are going to be coaching at a UK based club, there may be an opportunity to receive a coaching bursary. Take a look at the Sports Coach UK funding guide for potential opportunities – click here.
Hosting a Coaching Course:
If your club is interested in hosting a coaching course then please get in touch.

Book Now:
If you are interested in any of the courses above, would like to discuss your booking or would like to register your interest in our coaching courses please contact coaching@bwsf.co.uk. Alternatively, call the coaching department on 01932 579 933.
Click here to register your interest
Related links
Ski Boat Driver Level 2

BWSW Coach Licence