Malibu Boats Wakeboard National Championships 2018
When
Saturday 30th June to Sunday 1st July 2018
Download as vCalendar (for Microsoft Outlook etc.)
Import event to your Google Calendar
Where
Castle Water Ski Club, Belton Lake, Tattershall Lakes Country Park, Tattershall, Lincolnshire, LN4 4LR
Details
Wakeboard UK are proud to announce the date and location of the 2018 Malibu Boats Wakeboard Nationals Championships. The competition is being held on the weekend of 30th June - 1st July 2018 and returns to the amazing Tattershall Lakes Resort, Lincolnshire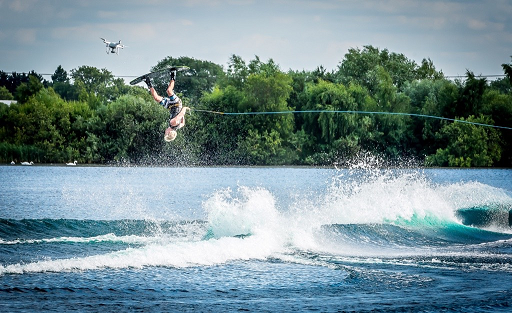 Competition
The competition for 2018 promises to be hotly contested with the level of riding increasing - expect to see some insane tricks thrown down by British riders freshly back from their winter overseas training bases.
2018 is a big year for UK wakeboarders with the IWWF Worlds, Nationals, IWWF Europeans and Wake Open - all IWWF ranking events for British riders. Note that entering the Nationals is a proviso of being included in the Team GB Squad.
Wakesurf Session
In addition to the high-end wakeboard action at the competition, Malibu Boats will be demonstrating the awesome wakesurfing wakes and Integrated Surf System on their boats.
The Malibu Integrated Surf System (ISP) is a combination of surf generating tech that all work together including the Power Wedge II, Quad Hard-Tank Ballast, Tailored Swim Platform Design, Performance Hull Design, and SurfGate. These are all controlled as one by the Command Centre dashboard. In addition, using their SurfBand, a rider can control boat speed, surf side, wedge position and even stereo volume all from behind the boat.
If you are looking to see how you can catch some surf behind the same boat that will also create a pro-level wakeboarding wake, sign up for this session - details to follow.
Practice
Practice for the competition will be provided on the Friday prior to the event, the 29th June 2018. Booking is mandatory - contact details and cost for practice bookings to follow. Slots will be available from 1pm thru 7pm, 10 min slots.
Please use the booking button below to enter the competition for yourself and/or someone else. Note: you need to be a current member in order to enter.
Any other information can be found on the event website.

Further details and contact information
Book now