2017 Cutting Edge Boat Competition
31 August 2017
Simon Waring
The weekend of 19th / 20th August saw the BWSW Annual Cutting Edge Competition take place. This event brings young skiers from across the country aging from 4 to 16 to compete across two days in six disciplines of waterskiing and wakeboarding.
The entries started coming in thick and fast from Team Managers and individuals making for a record number of entrants this year 67 in total. The individuals were then put in to relevant teams, to then give us a great field of 12 teams.
With a crammed itinerary for the weekend and over 220 tows to get through the Wake and Ski team arrived on site at 7.00am Saturday to kick start off the event. Kneeboard Slalom was first up and with a full field of 38 riders the All new MasterCraft Pro Star was fully fuelled and ready to give the young riders the lowest / softest wake in the industry.
Some great displays of riding were taking place on the water, but the stand out stars were Yorkshire and Humberside's George Lancaster from Humberbridge WSC, 4 years old, he went straight out and even managed to get over the wake to score .5 The applause he received upon his return was amazing, and his reaction as he walked off the jetty, once again showed us why we all love the Cutting Edge Competition. Other stand outs included South West's twins Lottie and Grace Fear, who under the careful watch of Viv both nervously went out to score .5… Again the support for the two 6 year olds was immense. But at the end of the morning session the stand out winners were Dan Marshall of Yorkshire and Humberside, and Todd Wood also of Yorks and Humberside taking first and second.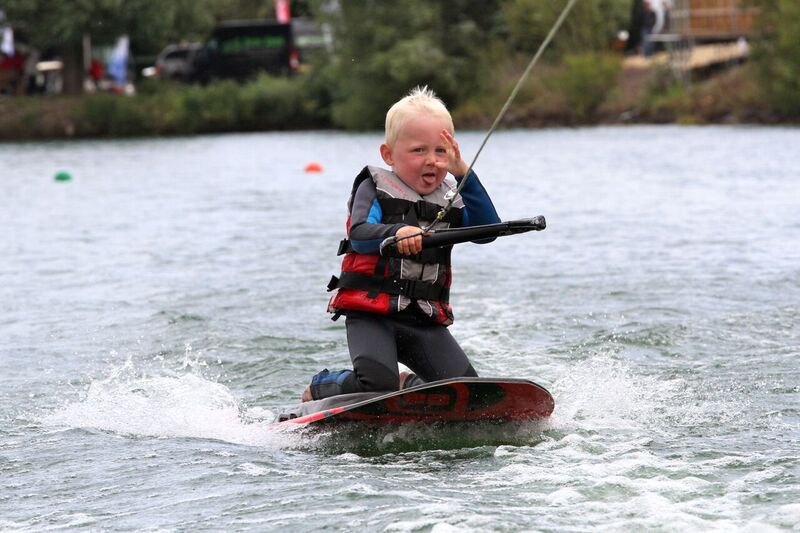 So with a changeover of boats, and quick break for the crew, the afternoon involved tournament tricks and Kneeboard Tricks…
Traditionally the Northern Team do very well in Tournament Tricks, Davy Hughes Team Manager from Merlin Brae Ski School works hard with the youngsters up there on Slalom and Trick. With 3 skiers from there in Sam Digman, Adam Hughes, and Owen Wilson, they fancied their chances… However Yorkshire and Humberside had been training hard on Tricks, and having superb runs on the day, Danny Jays, Tristan Lux, and Amy Whaling took the top 3 spots leaving Sam Digman with 4th… Well done to all the Trick Skiers, which is undoubtedly one of the hardest disciplines to do. Jack Fearn of West Midlands new to the Cutting Edge also did awesome to take 5th spot.
A short break and then onto Kneeboard Tricks, always supported with maximum riders, and this year was no exception… 49 Riders in total!!
Again this discipline would normally be Yorks and Humberside's for the taking, but they were in for a bit of wake up call as East Midlands had obviously been doing there training… East Midlands, and in particular Church Wilne, the previous host of Cutting Edge, had learnt from previous competitions and trained hard. Great performances from James and Thomas Taylor, along with Emily Youd, saw 3 of the top 5 places go to East Midlands, luckily for Yorkshire and Humberside, Kyle Halmshaw, who at 10 years old and having only started Watersports last year, had a solid performance to take Gold on the day. And South West Henry Sullivan took home the silver just 150 points raw score away from Kyle…
Again in this discipline George Lancaster, and the Fear twins again stole the show from a crowd applause perspective. Well done to all 49 riders and indeed all the participants on the first day…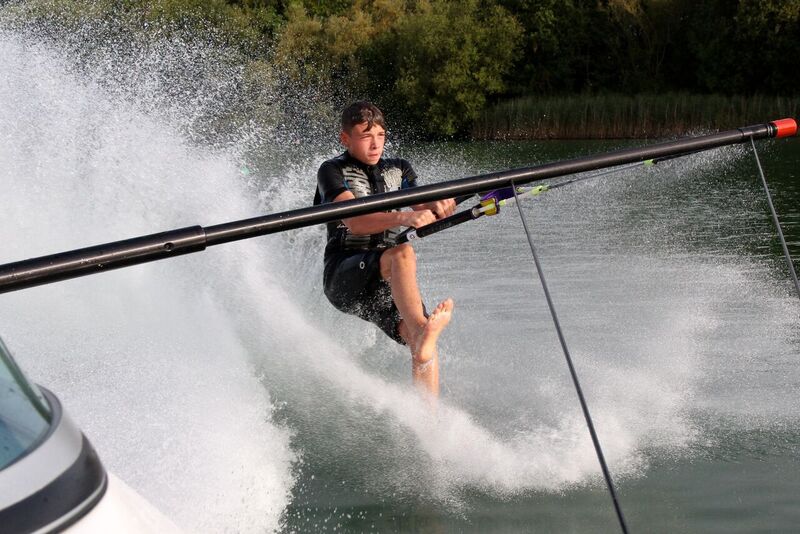 7.15 am…. A morning mist stands a foot above a glass flat lake, as the Chariots of Fire theme tune wakes the masses… Barefoot and record 15 entries for the discipline. Every child did superb in the most daunting of all disciplines and some stand out performances from a few. South West Enzo Joy at only 8 years old doing brilliantly, and Ben Sullivan of the South West All Stars taking a superb Gold.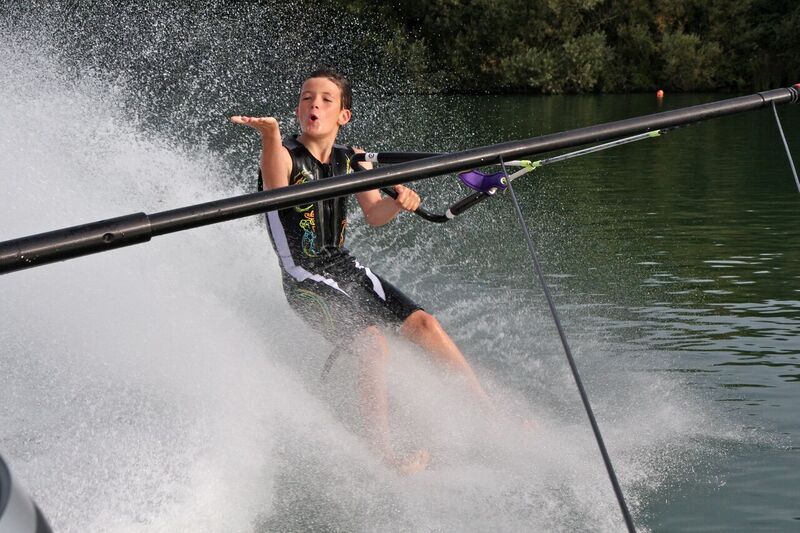 With the Barefoot Finished at 9.00 and the World Record Pro Star now in the water for tournament slalom, it was time to crank up the volume, on what was turning into a lovely warm day with flat water.
Again 46 skiers was the number, quite a bit higher than usual and was certainly going to be a challenge to get through. However the Wake and Ski Boats UK love challenges so with the full team ready it was game on.
Again some great displays of slalom from both the top half of the results table, but also some stand out performances from the lower half.. Grace Fear who on Saturday had been very nervous, took to the water on a pair of skis and although no one expected it, having never been over the wake managed to score half a buoy and came back to the dock to rapturous applause from the now very large crowd.
At the top Yorks and Humbersides Danny Jays and Amy Whaling took Gold and Silver, a stand out performance from Ross Stag saw him take Bronze, much to the delight of dad Joe, who along with his Eastern Posse certainly were contenders for loudest support crew of the weekend. However with West Midlands Danielle Halford, and Jack Fearn narrowly missing out on the podium spots it seems that next years event could be a very much open affair if the Eastern, West Midlands, and East Midlands continue to grow as they have this year.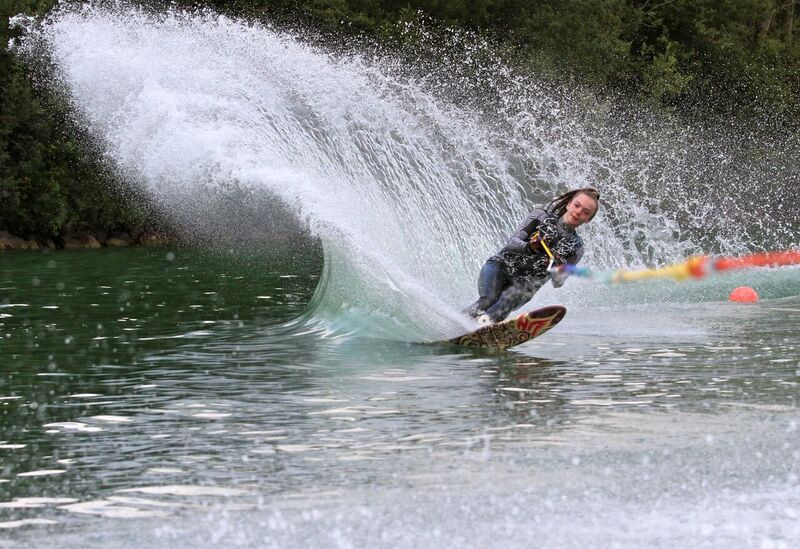 The X-7 went out first pulling its riders to great heights… and once again there were some great displays of riding. The Wake and Ski Judges of Ben Edwards, and Elliot Lux had their work cut out for the afternoon. And as we changed boats to the X-2 the weather took a turn for the worse as the conditions became harder.. However the riders carried on regardless and the last rider went from the dock not long after 5.00 pm With over 200 tows in two days, suffice to say the Crew were absolutely shattered as the pack down began….
Stand out performances in Wakeboard, were once again little George Lancaster, who started amazing with a standing Jetty Start much to the loud applause from crowd, and the eventual winner Danny Jays, who's discipline is traditionally Slalom, but turned in a superb performance to take gold, I think it was all too much for dad Craig to take with tears in the eyes as he walked to the dock to congratulate Danny on his superb run. Jay Quill of West Midlands also doing superb to take 3rd spot and Yorkshire and Humbersides Myles Rose taking 2nd after a season of hard training in the discipline.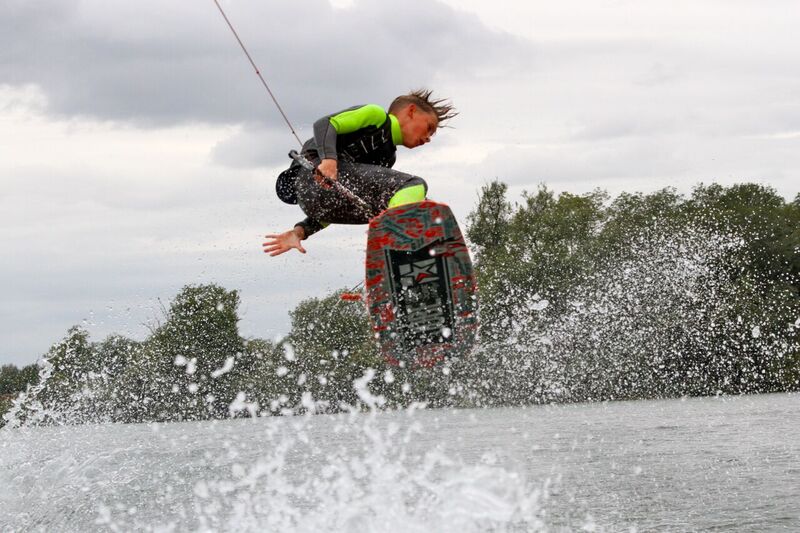 With the event moved into the clubhouse for the prize giving it was very much packed out.
These people above and the hosting clubs make Cutting Edge possible, without people like these events would not happen so a big Thank You to each and everyone of you….. And in a throwback to the real Godfather of it all I would personally like to thank Tony Green of Humberbridge Waterski Club and Yorkshire and Humberside BWS Gurru… The Cutting Edge started life as the brain child of Tony, and who would have thought all those years ago that it would now continue and flourish the youth of our sport for generations to come… Thank you Tony and hope to see you back at the Cutting Edge next year.
We will be looking for an host site for next years event, and applications will open in November this year. We are also looking to roll out a training program to assist all regions with training for next years competition.
If anyone would like info regarding anything to do with Cutting Edge please get in touch with either Kylie at BWSW HQ or Simon Waring at Wake and Ski Boats UK.
See you next year!!!
Photo credit: Perry Lux
(Full article and photos in the October/November issue of the magazine)