2017 E&A Senior Championships
31 August 2017
Rodney Rowlands
The 2017 E&A Senior Championships were held in the picturesque setting of Parco del Tevere Rome with wonderful facilities and excellent organisation. Although the sun was blazing there was a lively wind to test the skiers skills. . .
The British support was second to none with a rousing cheer for all our competitors which was well deserved as the 22 strong team put up a sterling performance against 20 other countries. The main team of; Kelly Atkins, Mike Hornagold Jnr, Lorraine Sizer, Tim Hazelwood, Mark Beard, Hilary Winter, Jonathan Cohen, John Philips and Clive Wallace got a commendable Bronze in the team competition. I'm sure GB will challenge again next year for the Gold medal position which they have held in recent years.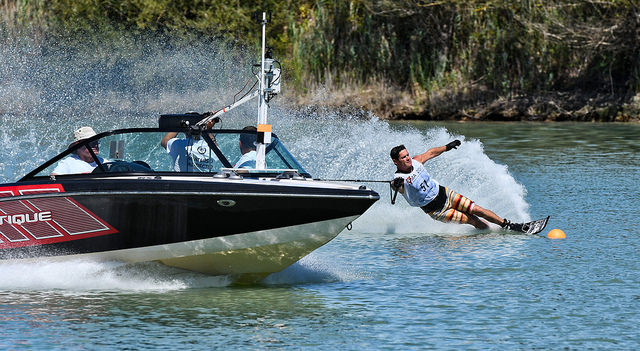 Individual Medals
45+ ladies jump: Lorraine Sizer received a Bronze with a very creditable
45+ 28.8m men Slalom: Mike Hornigold Jnr. with an exceptional performance won Gold. With a nail biting 5@11.25 to beat, the wind dropped and with near perfect conditions, he achieved 1@10.75. Mike also received a Bronze in the 45+ overall, only missing out on Silver by 0.67 points out of nearly 2000.
55+ ladies Slalom: Hilary Winter pulled back from 3@14.25 in the preliminary round to win Gold by three buoys with 4@13, I'm sure making Martin and Freddy very proud.
55+ ladies jump: Kate Hazelwood in true Hazelwood tradition won Gold with a 21.6 m leap. And just to top it off won a 55+ Gold overall as well.
55+ men Slalom: Tim Hazelwood missed out on Gold by 1.25 buoys with 1@11.25. Tim also got a Bronze in 55+ tricks with 2360 points. At this moment I will just mention that Mark Beard narrowly missed the final in an exciting tie break with the French team's Jean-Pierre Flueury. Tim's medals don't stop there, in the 55+ jump GB excelled with a 1:2:3! Gold for Tim with 46.7m, Silver for Paul Hammersly with 36m and Bronze, a first ever individual medal for (the team capitano) Mark Beard with a very close 35.7m leaving the rest of the field standing. This made for a very emotional medal ceremony as the national anthem played and three Union Jacks fluttered in the wind. This was hastily followed by a 1:2 in the 55+ overall, you guessed it, Tim Gold with 2727 points and Paul a Silver with 1897 points.
65+ women Slalom: saw a well deserved Bronze for Carol Worship with 2@16 and a Silver in tricks.
65+ men Slalom: this was dominated by our very own Jonathan Cohen winning Gold with 2.5@11.25 beating his nearest rival by more than 10 buoys.
65+ men Tricks: John Philips received a Bronze with a very creditable 1420 points, his best since the nationals in 2015. Also he had a fighting go in the jump with an excellent 26.1 to achieve 4th.
65+ men Overall: John Philips with his wealth of experience nailed a Silver with good all round scores.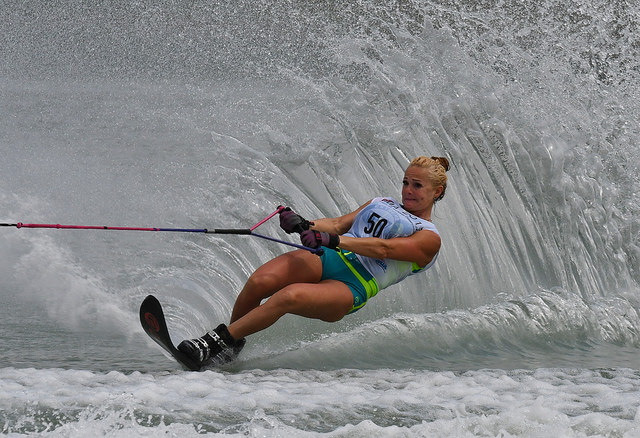 Photo credit: Mark Dickinson (Full article and further photos in the October/November issue of the BWSW magazine)