2022 Awards
31 January 2022
Huge congratulations go to all who received awards at the BWSW AGM, held online on Sunday 30th January 2022 . . .


Lascelles Open Trophy
The main award, the Lascelles Open Trophy, went to Joel Poland in recognition of his incredible achievements in 2021.

Joel became the Overall World Waterski Champion in October, the first Briton to do so since Mike Hazelwood in 1977. He also broke the overall world record for the second time at the World Championships and won the silver medal in jump. Earlier this year Joel was named Male Waterskier of 2021 by the world governing body, the IWWF.

Announcing the award, the Team Captain, Steve Sopp, described Joel as "truly an amazing and dedicated athlete".

Joel was unable to join us at the AGM, but he sent us this video message.

Volunteers of the Year
The award is shared between two members of Theale Water Ski Club. Bob Langdown and John Howard were nominated by members of the club for their dedication to the running of the club and making it such a welcoming place.
"I would like to thank the people who have nominated us," Bob said. "There are many, many volunteers who freely give their time and effort to support the clubs at the grassroots level."

John, who has been a member of Theale for 35 years, said: "Thank you very much for this award.. we will cherish this."
Honorary Members
Honorary memberships are given to members who have given outstanding service to BWSW over many years, often decades. This year's recipients are Gavin Kelly (Waterski) and Samantha Impey (Racing).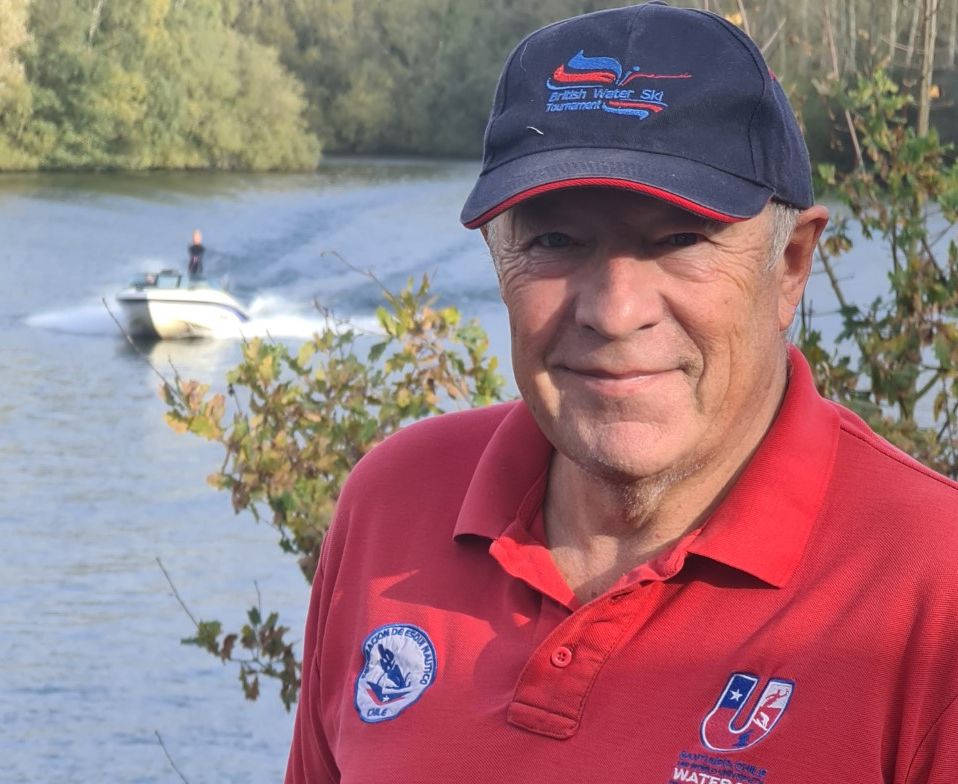 Gavin is a former BWSW board member, treasurer and Executive Officer. He has been a member of several BWSW committees over the years and is currently Technical Chairman of the Tournament (now renamed Waterski) Committee. He is one half of the fundraising committee, Friends of Tournament, and an international judge.
Sam has been helping the Racing Committee for around 20 years and on the committee for 10. The Chairman of the Racing Committee, Tim Mayers, said Sam has improved the way time-keeping and signing-in are done and acts as a time-keeper in the UK and Europe. She is, he said, "a complete asset to the racing community".

Lascelles Grants
Each year, a number of promising athletes under 18 from across the disciplines are awarded grants to help with their training and to prepare for competitions. The grants are named after former BWSW Honorary President, Major General Anthony Lascelles, who left a major bequest specifically to support talented youngsters in our sport.

While the money from the bequest has now run out, BWSW continues to support the grants in the General's name. This year we have awarded a total of £10,000 to 22 recipients, thanks to a very generous anonymous donation for which we are extremely grateful.

The recipients of the grants in 2022 are:
| | | | | |
| --- | --- | --- | --- | --- |
| First Name | Surname | Active Member | Discipline | 2022 Award |
| Ryley | Riordan-Joy | 60317 | Barefoot | £750 |
| Henry | Sullivan | 73299 | Barefoot | £250 |
| Baye | Hoctor-Duncan | 74439 | Boat Wakeboard | £250 |
| Charlie | Lloyd | 75859 | Boat Wakeboard | £750 |
| Ellie | Sherfield | 76271 | Boat Wakeboard | £250 |
| Isabelle | Lloyd | 75860 | Boat Wakeboard | £750 |
| Marley | O'Toole | 79482 | Boat Wakeboard | £750 |
| Charlotte | Docherty | 78039 | Cable Wakeboard | £250 |
| Darcey-Jane | Williams | 80103 | Cable Wakeboard | £250 |
| Eve | Smith-Lang | 75097 | Cable Wakeboard | £750 |
| India | Laverack | 73944 | Cable Wakeboard | £500 |
| Leah | Morgan | 77556 | Cable Wakeboard | £500 |
| Louie | Brown | 78381 | Cable Wakeboard | £250 |
| Orla | Winn | 76098 | Cable Wakeboard | £500 |
| Darcey | Manchett | | Racing | £500 |
| Samuel | Hopkins | 74900 | Racing | £500 |
| Alfie | Godfrey-Fletcher | 78235 | Tournament | £250 |
| Charlie | Fearn | | Tournament | £750 |
| Harrison | Crossland | 60256 | Tournament | £250 |
| Harley | Coster | 63399 | Tournament | £250 |
| Jimmy | Elliott | | Tournament | £250 |
| Myles | Rose | 60152 | Tournament | £250 |
If you were unable to attend the AGM, you can view the recording here