Arron Davies & Ragin Cajuns Win at Collegiate Nationals
27 October 2021
Three British skiers competed for the Ragin Cajuns at the 2021 Syndicate Water Skis Collegiate Water Ski National Championships in Zachary, Louisiana, USA last weekend. . .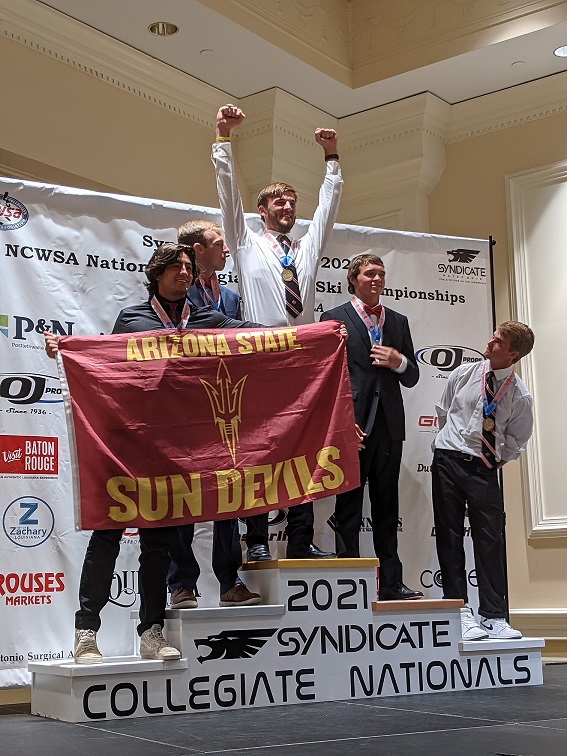 Katie Nutt, Arron Davies, and Luke Outram all headed straight from the World Waterskii Championships near Orlando to Bennett's Water Ski School to compete on the Ragin Cajuns Water Ski Team.
Arron Davies won the slalom with a score of 5@10.75m narrowly beating Sean Hunter and Garrett Reese (both 4.5@10.75m).
Luke Outram competed in the slalom, trick and jump events. With scores of 0.5@11.25m, 5410 points (from one pass) and 53.9 metres, he ended up taking second place overall behind teammate, Canadian Dorien Llewellyn, earning the team valuable points.
Katie competed in the trick event and earned a score of 2590 points from one 20 second pass, giving her team more valuable points.
The Ragin Cajuns Water Ski Team out of the University of Louisiana at Lafayette won the national title for the second consecutive year, the last being in 2019 as there was no Championships in 2020 due to covid.
Arron, Luke and Katie were joined by teammates from all around the world, many of whom had competed in the World Championships the week before.