BWSW Coaching Conference 2018
13 April 2018
BWSW Coaching Conference 2018 held at Cliff Lakes on 29th April for coaches, instructors and operators sponsored by O'Brien Watersports and Midlands Nautique . . .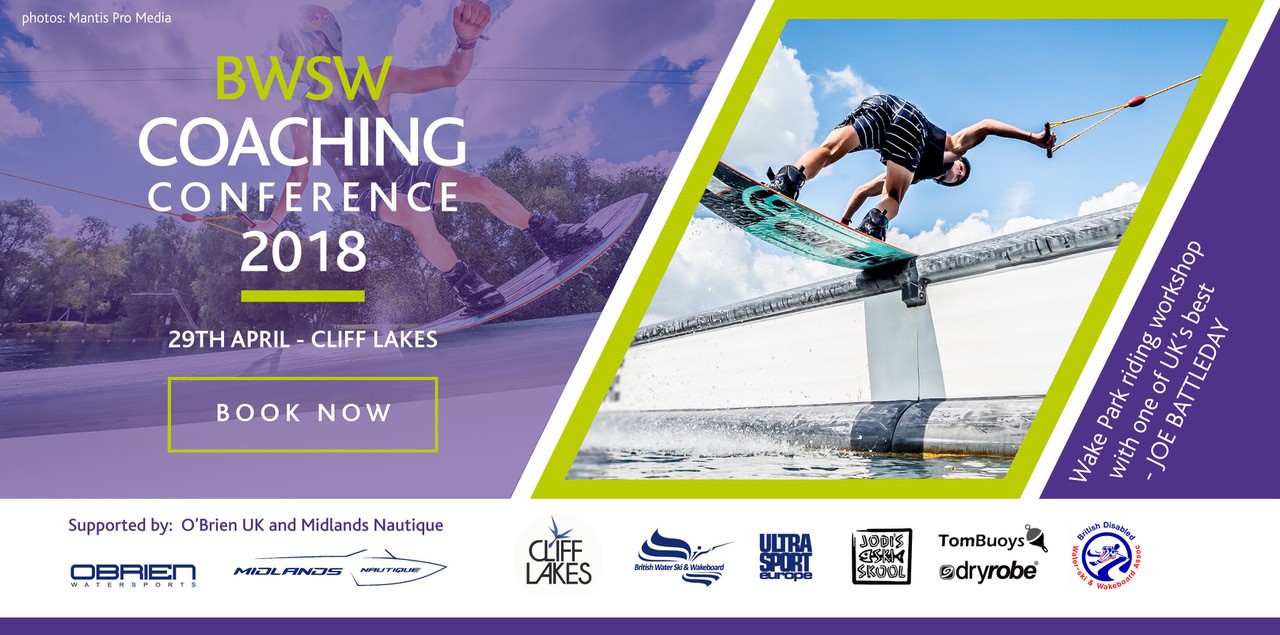 Morning Agenda:
9.00am - Coffee, Registration and Exhibits
10.00am - Welcome
10.15am - Future of BWSW Coaching by Sam Haslam Coaching Programme Coordinator
11.00am - Learning to fly: How to coach a straight-line cable Air Raley (Practical) by Joe Battleday, one of the best wake park riders around, runs through the basics and some more advanced tricks including the Air Raley
- Foilboarding (Practical) by Lee Debuse, gives a taster of this new craze

- Wakeboarding: Common faults, fixes and misconceptions by Matt Crowhurst
1.00pm - LUNCH AND EXHIBITS
With over 30 years of skiing at the very highest level, countless titles from across the world to his name including 3x World Cup Tour Champion, and having run an extremely successful ski school out of Orlando for more than 20 years, Jodi Fisher is one of the UK's biggest skiing exports in our sports history. Having been the strongest of advocastes for BWSW throughout his career, Jodi is showing yet more support by joining the conference as our keynote speaker. As well as recalling stories from an incredible life built in the sport he loves, Jodi will talk about the fundamentals of imparting knowledge and passion through his ski school and clinics which have seen him become one of the worlds most sort after coaches.
SPONSORS:



Afternoon Agenda:
2.00pm - Wakesurfing Basics (Practical) by The UK's premiere wakesurf coach, Lee Debuse, gets you surfing
- British Disabled Waterski & Wakeboard workshop
With a mind to aiding us all deliver on one of British Water Ski and Wakeboard's key principles; access to our sport for all, we have got two of our biggest proponents in adaptive skiing from British Disabled Water Ski and Wakeboard, Jane Sowerby and Claire Ellis, joining our hosting team for the day.
After a spinal injury in 2003, Jane was paralysed from the waist down but with sport having always been such a huge part of her life up until that point she was keen to explore what was still possible. Just a year after the injury she was on the water at Heron Lake on an adaptive water ski course with the BDWWA and has been hooked on skiing and boarding ever since. Her host partner for the day, Claire Ellis, has water skied at the highest level since she was a teenager, coaching both skiing and the adaptive side of the sport as far back as 1995. After a trampoline accident resulting in permanent injury to her spinal cord, her skiing career changed but was no less influential over the sport continuing to compete for her country and work hard to ensure as many as possible get the chance to find a life long passion for boarding and skiing as she has!
"The BDWWA will discuss the various adaptive equipment available and how it can enable people with a whole array of varying needs to waterski and wakeboard. The process from assessment to on-water support will be explained, alongside different teaching progression techniques. There will also be a discussion on how individual clubs can become more inclusive"
- A guide to the equipment procedures needed to offer access all

- Slalom: Common faults, fixes and misconceptions by John Battleday one of the UK's most celebrated skiers and coaches
3.45pm - COFFEE BREAK
4.00pm - Guest Keynote Speaker: Jodi Fisher World renowned slalom skier and tournament water ski coach
4.45pm - CONFERENCE CLOSE
5.30pm - Slalom Coaching with Jodi Fisher
Cable wakeboard coaching & O'Brien Demo - Matt Crowhurst, professional wake, skate & surf coach of 20 years
As well as a great line-up of speakers and practical workshops, there will be a range of companies exhibiting at the conference including dryrobe, Industry Wake Parks and British Disabled Waterski & Wakeboard Association. Amongst these, Midlands Nautique will be displaying their Nautique GS20 and G23, which will also be used during the surf sessions. O'Brien and Ultra Sport Europe will be exhibiting some of their range and offering delegates a chance to demo their boards, surfers and foils during and after the conference.
EXHIBITORS:
- Ultra Sport Europe
- Dryrobe
- Tom Buoys
- British Disabled Waterski & Wakeboard
- Jodi Fisher Ski Skool
- Wildpacks
- Midlands Nautique
- O'Brien