GB Medals at the European Under 21 Championships
9 August 2021
Congratulations to Ben Turp and Katie Nutt who made the podium at the Europeans in Seseña, Spain, on Sunday 8th August with some impressive slalom skiing . . .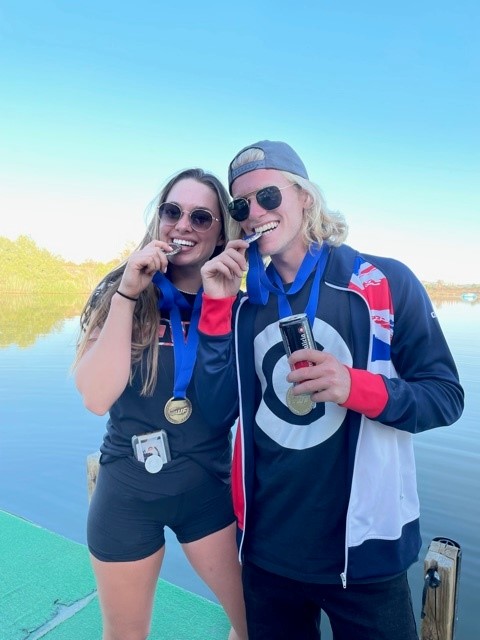 Ben won two silver medals in the men's slalom. One was for the 2020 Championships, which had been delayed due to the pandemic, and the other for the 2021 Championships. The two events were held at the same time at Botaski near Madrid. Katie won bronze in the 2020 women's slalom and silver in the 2021.
"I'm speechless, very happy, super happy getting on the podium," Ben said as he came off the water. "Thanks for all the support from Team GB, especially my parents."
Katie, who celebrated her 21st birthday on Saturday, said: "Super happy. I've been trying for a medal for so long. I'm still a bit shocked, to be honest. Big thanks to my parents and (coaches) Stevie (Glanfield) and Matt (Rini) for all the support."
The results will give Ben and Katie huge confidence going into the World Under 21 Championships, which take place later this month in Florida, USA.
Ben surpassed his best ever score to go into the men's slalom final as top seed with 2 buoys scored on the 10.75 metre line. As the last skier off the dock in the final, Ben knew he had a big task ahead to overhaul Sweden's Tim Tornquist who had set his own personal best of 4 at 10.75m. It was a step too far on the day for Ben but, once again, he got a PB of 2.5 at 10.75m to take an impressive silver.
This is Ben's first individual success at a major international competition. He was part of the GB Team that won gold at the Under 21 World Championships in Canada in 2019 and bronze at the Under 17 World Championships three years earlier.
Ben (20) is the oldest of three siblings in the GB Water Ski Squad, all of whom competed at Seseña where the Under 17s and Under 14s European Championships were held alongside the Under 21s. They all competed in slalom, tricks, and jump.
Ben also made the final in the tricks competition where he finished ninth. Sister Tilly (18) and Seb (13) – the youngest member of the GB team - were unable to progress to the finals in their events but acquitted themselves well against strong competition at their first European Championships. Seb achieved his best ever competition scores in slalom, tricks and jump and just missed out on the Under 14s slalom final. Tilly achieved her best ever scores in jump and tricks.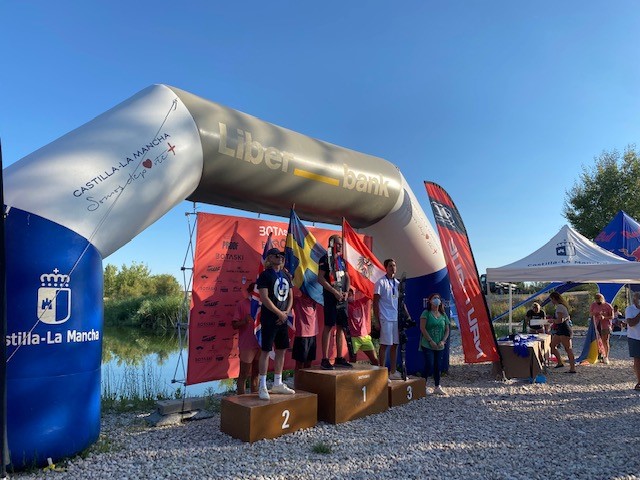 Katie Nutt, who trains with Steve Glanfield at Oxford Wakeboard and Ski Club went into her 12-woman slalom final, knowing she would have to improve on her preliminary round score to stand a chance of getting on the podium. She did it in style and sat at the top of the leaderboard as skier after skier failed to beat her score of 1 buoy on the 11.25 metre line.
Eventually, Ines Angeunot of France was able to sneak past Katie by just one buoy to take gold. Nicola Kuhn of Austria pushed Katie down into bronze medal position in the 2020 Championships but Nicola's age means she did not qualify as an Under 21 in 2021, so Katie is the 2021 silver medallist.
Katie is a student at the University of Louisiana Lafayette in the USA where she is on the water ski team.
The whole team out in Seseña did GB proud with some great performances.
"Just wanted to say thank you for letting us be part of your success and dreams. Very proud to know everyone of you," U21 Team Captain Vince Turp said in a message to the skiers.
Congratulations to all in the U21, U17 and U14 teams who had a great week with several personal bests recorded. They were supported by Friends of Tournament, who paid a contribution towards their travel to the competition.
FoT was formed in 2016 with the specific aim of raising funds for 3 event water skiing. The money goes towards athletes' travel costs for World and European Championships and other activities to promote water skiing, such as Development Days. The main fund-raiser is the 200 Club, a lottery offering monthly cash prizes. For more information and to sign up go to www.tournamentwaterskiing.org.uk