Joel Poland Wins Big Again!
27 June 2022
Jane Peel
The Overall World Champion was back at the top of the podium at a major international competition at the weekend, winning in tricks at the Botaski Pro Am at Seseña in Spain. Will Asher was second in slalom at the same event…
It's Joel's first Pro tricks win and only the second Pro win of his career, the first coming in the jump competition at the Masters in the USA in May. In both the first round and the final at Botaski, Joel equalled his own recently-set British tricks record, scoring a massive 12,160 points. Pato Font of Mexico was second and Danylo Filchenko of Ukraine third.
"Totally over the moon! I've been chasing that pro trick win for some time now so it was all too sweet to finally get it," Joel said.
In the slalom, Will Asher was just beaten to the top spot on the podium by a fellow two-time World Champion, Thomas Degasperi of Italy.
The two men made it through two preliminary rounds and two head-to-head knockout rounds to get to the final where they could not be separated. Both scored 3 buoys @10.25m. It meant a run-off which Thomas won (4 @ 10.75m), leaving Will with the runner-up spot (3.5 @ 10.75m). Brando Caruso of Italy was third.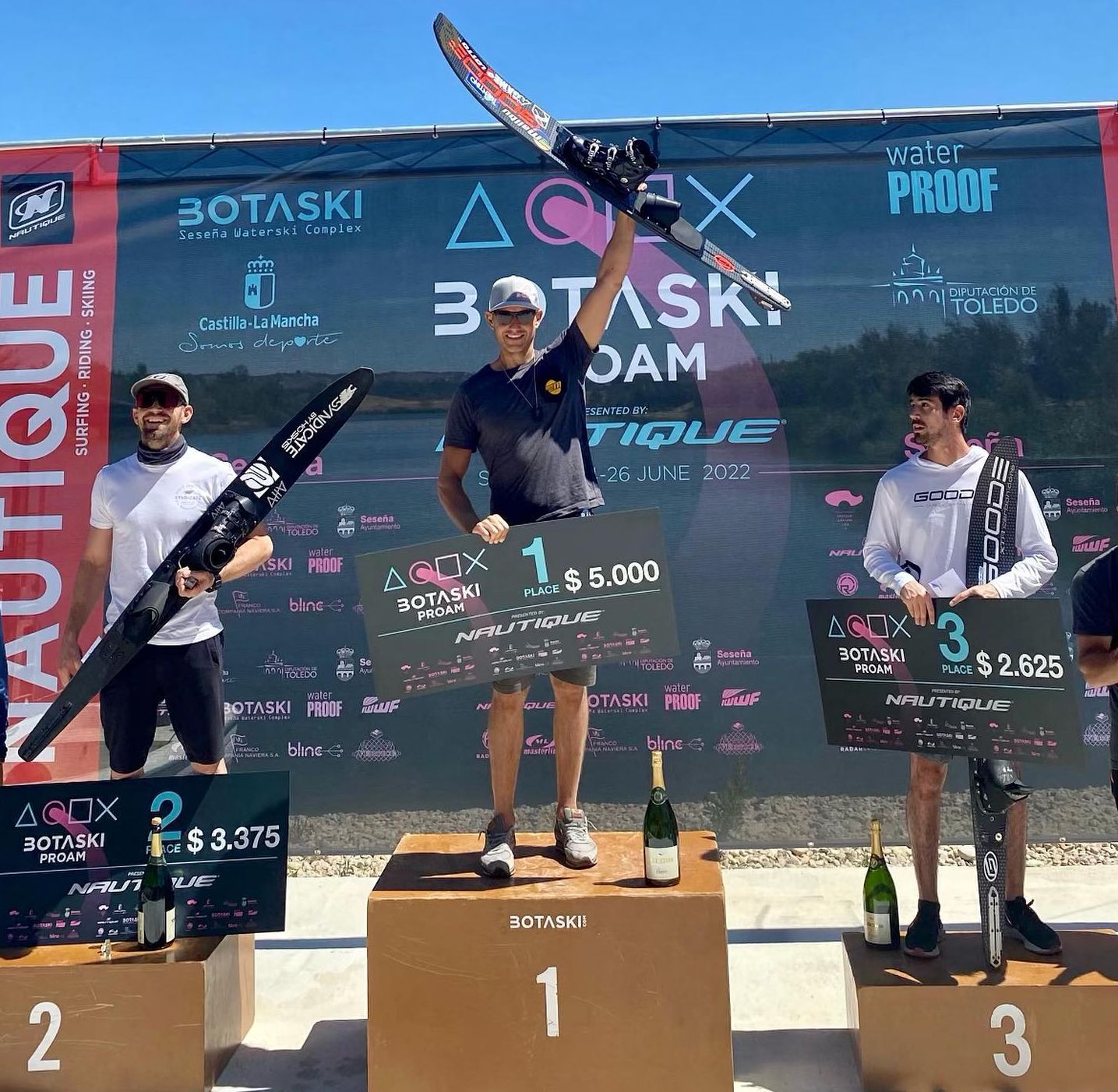 Photo credit: Waterski Pro Tour
The results propel Will to the top of the Waterski Pro Tour standings but there's a lot of skiing to go before the Tour ends. The Botaski Pro Am was the first Waterski Pro Tour competition of the 2022 season to take place outside the US and was the first of five WPT slalom contests to be held over consecutive weekends in Europe. The next takes place at San Gervasio near Milan in Italy on Saturday 2nd and Sunday 3rd July.
The tour comes to the UK on 23rd and 24th July with what is bound to be a spectacular parallel slalom competition. Skiers will compete side by side through parallel slalom courses behind two boats. "The Duel" will take place at Cirencester Water Ski Club at South Cerney in Gloucestershire.