The British Disabled Waterski and Wakeboard Association
15 August 2019
The British Disabled Waterski and Wakeboard Association call for additional voluntary support . . .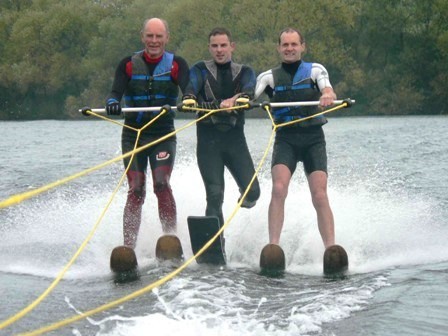 The British Disabled Waterski and Wakeboard Association is a national charity with its headquarters at Heron Lake situated near Staines where they have been successfully teaching people with all types of disability to water ski for the past 39 years.
The thing which we all learn very quickly is how beneficial it is for people with absolutely any type of disability to water ski. It's a water sport that with BDWWA's special equipment and teaching techniques can be taught rapidly and then to see the almost immediate change in mental outlook of those learning is incredibly rewarding. People who have thought that such an exciting sport was not possible find their confidence boosted immediately and within a day or two their whole outlook to life changes from feeling deprived to one of confidence that they are capable of tackling nything else they thought beyond their reach.
With a variety of equipment BDWWA can get anyone out on the water. Many of the full members are wheel chair users as a result of either injury or illness and for them BDWWA use large skis with frames for the hips to fit in so that they are seated skiers. For those with a loss of limbs, BDWWA can usually find a way for conventional stand up skiing. Those who are totally blind take no longer to learn than sighted people because of simple teaching methods. After all it's a uniform surface with no obstructions. During the week, BDWWA get many disabled groups who are often children with disabilities such as Cerebral Palsy, Downs syndrome and learning difficulties. Depending on their individual abilities they may have exciting rides on inflatable devices or be taught to ski. The point is, BDWWA have something for everyone. Speed over the water is definitely exciting but at the same time it is safe and you do not hurt yourself if you fall in, which is important if you already have an injury or loss of a limb.
Whilst BDWWA have many tools and techniques to help those with any form of disability, and what they do is incredibly worthwhile, they are struggling with needing additional support. They need volunteers to help with one and off the water, we want to encourage more people with disabilities to attend and try Water Skiing. Any financial support would be welcomed to help replace ageing equipment.
In competitive disabled water skiing, we led the world and for many years we were the champions. All those pioneers have now retired but a new group of younger disabled competitive water skiers won a sweep of medals at the World Championships in Norway, bringing home 4 individual gold medals, 3 bronze medals and an overall bronze for the team. There is no funding and they will rely on what they can raise themselves or their own savings.
Please let BDWWA know what you can do to help – they would be grateful for anything you can offer.

http://www.bdwwa.org/
Robin Nichols MBE, Chairman BDWWA