Two Wins in a Row for Will Asher
18 July 2022
They say it about London buses. You wait ages for one to arrive and then two turn up one after the other. The same can be said for Will Asher victories. He won for a second consecutive weekend on the Waterski Pro Tour in Norway on 17th July….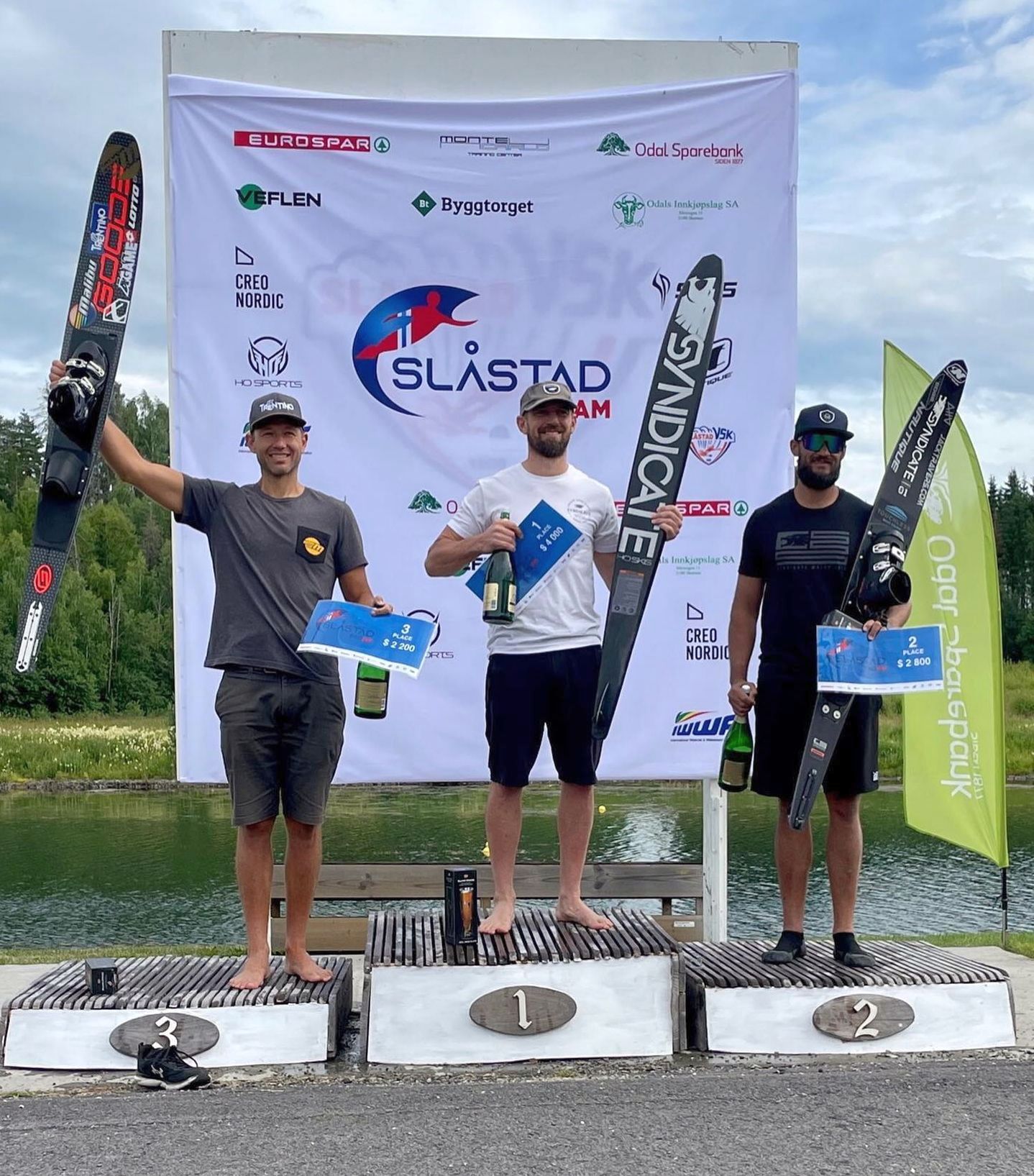 Photo credit: Water Ski Pro Tour
Just a week ago slalom specialist Will picked up his first pro win since September 2019 when he topped the podium at the Kaiafas Pro Am in Greece. On Sunday he was on the top step again at the Slåstad Pro Am in Norway.
The two-time World Champion in men's slalom is showing some of the best form of his career just a few weeks before his 40th birthday. Just as he did at Kaiafas, he posted the biggest score of the competition, 5 @10.25 metres, in one of the two preliminary rounds.
The score put Will through to the final eight at Slåstad as top seed. In the head-to-head knockout rounds he saw off fellow Brit, Calum Heath - who was thrilled to make his first professional final - then Matteo Luzzeri of Italy and finally Jon Travers of the USA, who finished as runner-up. Thomas Degasperi of Italy was 3rd. Calum finished an impressive 5th.

The result means Will extends his lead further at the top of the 2022 Waterski Pro Tour standings. The tour is a series of professional competitions held throughout the season in the US and Europe with points awarded and a tour champion crowned at the end.

The Slåstad Pro Am was the fourth and penultimate stop of the European stage of the Waterski Pro Tour, which culminates in the UK this coming weekend. The DUEL is a unique and spectacular parallel water ski slalom where the skiers go head-to-head skiing side by side behind two boats. The DUEL will take place at Cirencester Water Ski Club in South Cerney, Gloucestershire, on 23rd and 24th July. As well as a pro competition, there will be competitions for amateur skiers.

The DUEL will be livestreamed at https://theduelwaterski.com/live/ at 14:15 BST on Saturday 23rd and at 13:00 BST on Sunday 24th July. The event will also be livestreamed to the social channels of boat sponsor Malibu Boats, which have more than half a million followers.

It will be co-presented by 4 x Winter Olympic snow ski racer, Chemmy Alcott, and Glenn Campbell, a silver medallist in men's slalom at the 2005 World Waterski Championships. They will be joined by roving reporter, Aimee Fuller, a 2 x Team GB Winter Olympic snowboarder.