GB Medals at the Europe and Africa +35 Championships
27 July 2022
Congratulations to Hilary Winter, Mark Beard, Kelly Atkins and Chantal Clements, who all made the podium at the Europeans in Ioannina, Greece, on Sunday, 24th of July, with some impressive skiing.
Hilary won the gold in +55 women's slalom with Chantal taking the bronze in the same category. Kelly won a silver medal in the +35 women's slalom while Mark won silver in +55 men's jump and bronze in overall.
"I'm really happy because I was really nervous before I went out and I hate being the last off the dock knowing what I have to do", said Hilary as she came off the water after winning gold. "It's a beautiful lake and great people here, it's a really good competition".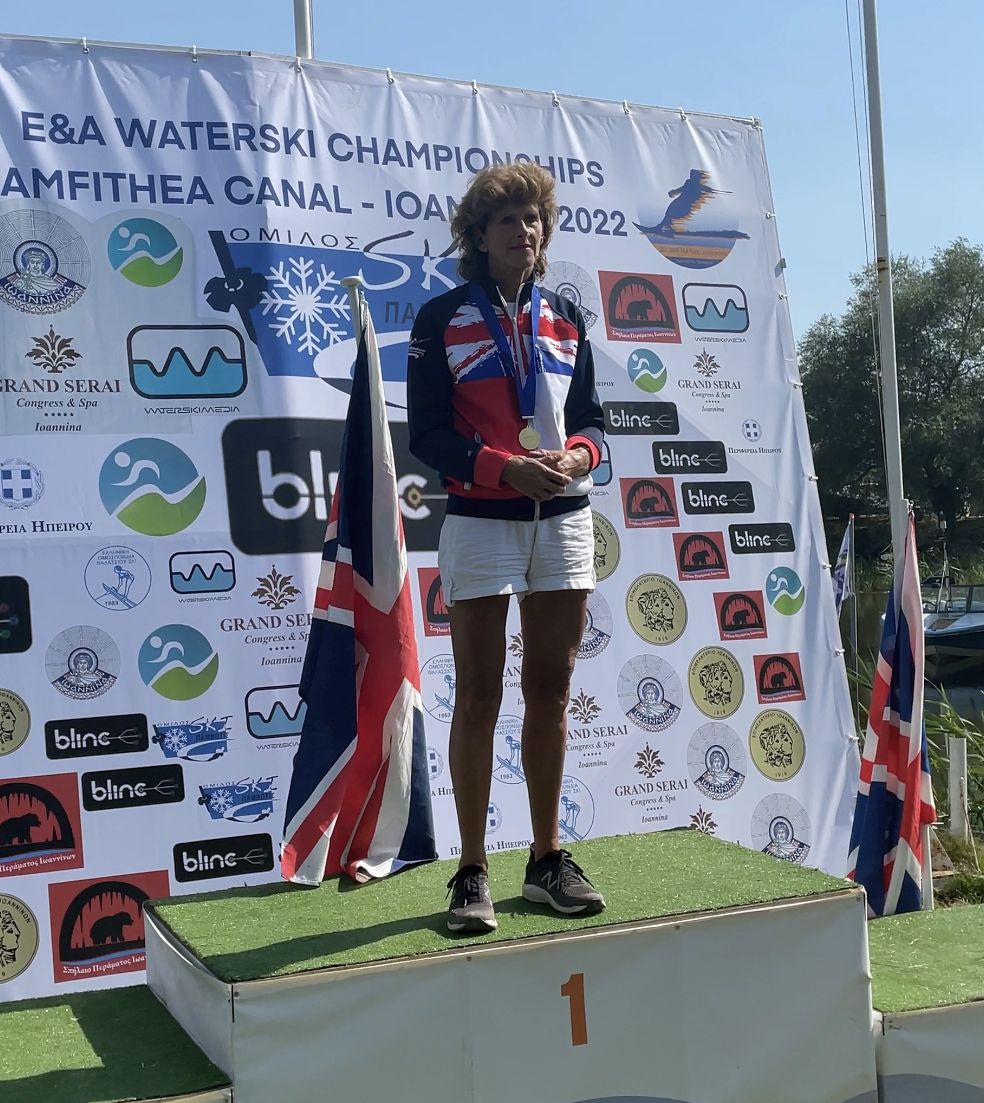 Hilary Winter
The four medal winners were joined in Ioannina by an experienced team consisting of Beverley Stephenson (+45 slalom), Dusko Lukic (+45 slalom and tricks), Rodney Rowlands (+45 overall), Stuart Scott-Ely (+55 slalom), Simon Wooldridge (+55 overall) and Martin Winter (+65 slalom). Beverley, Dusko and Rodney, who all qualify to ski in +55s, competed in the younger category to maximise the number of points that could be scored for the GB team. The team finished 5th out of the 16 countries competing.
Kelly also made the final in tricks and jump, where she finished 5th in both events and 6th overall. Rodney Rowlands made the finals in +45 jump and finished 4th and Stuart Scott-Ely made the finals in +55 slalom, where he finished 8th.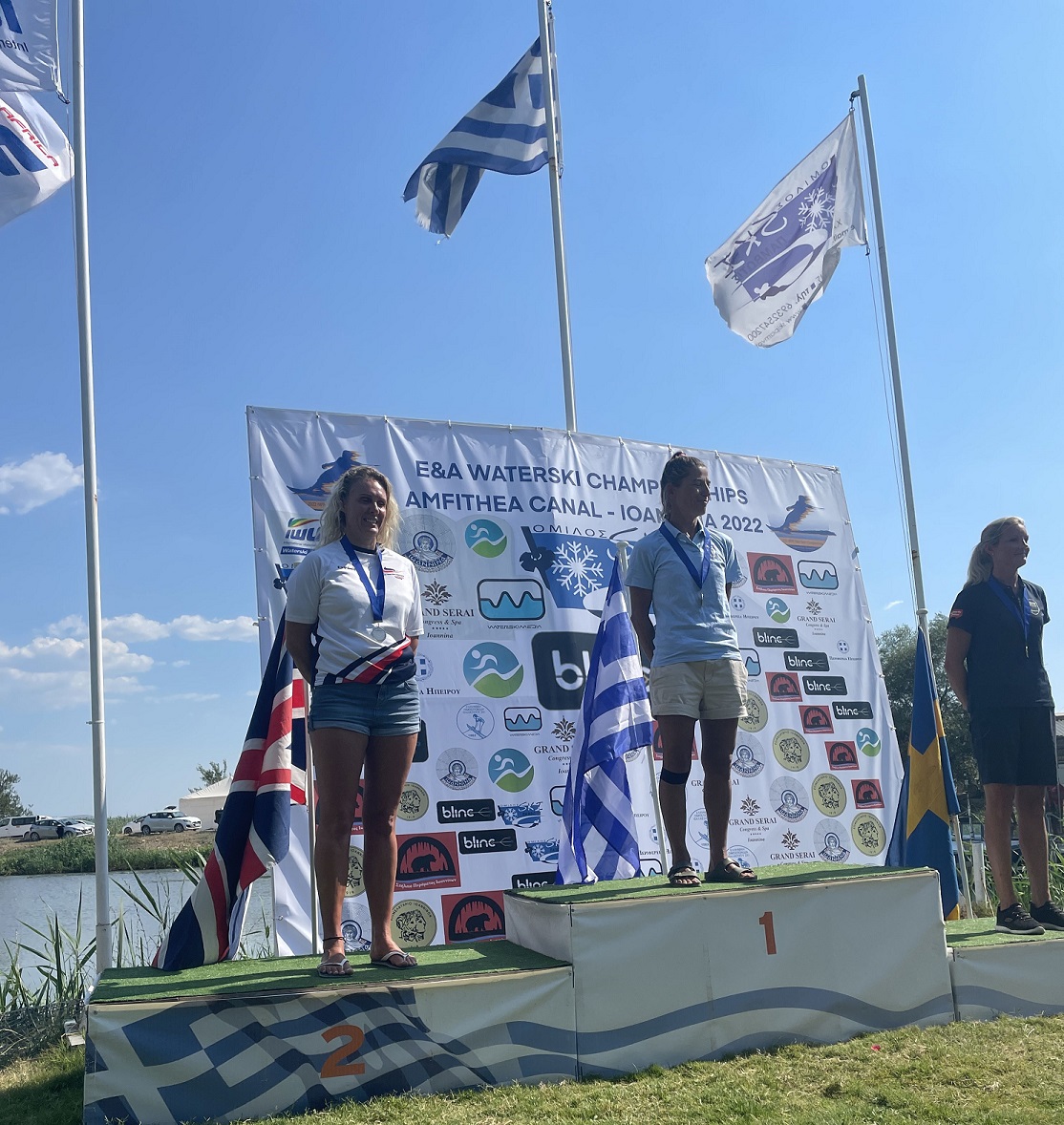 Silver for Kelly Atkins
Special recognition also goes to the owners of 4 Lakes Waterski School in the Cotswolds, Samantha and Jamie Bloemsma, who were in the medals. Samantha won bronze in jump and overall for South Africa and Jamie won bronze in slalom for the Netherlands.
The results will give the GB team and individual skiers confidence going into the World +35 Championships, which take place in France in September.
Team GB was joined in Greece by fellow Brits Gavin Kelly (Chief Judge), Nigel Talamo (Homologator), Phil Ingle (Chief Driver), Jane Peel (Commentator) and James Timothy (developer of the Sure-Path boat path monitoring system). They all helped to make the event a great success.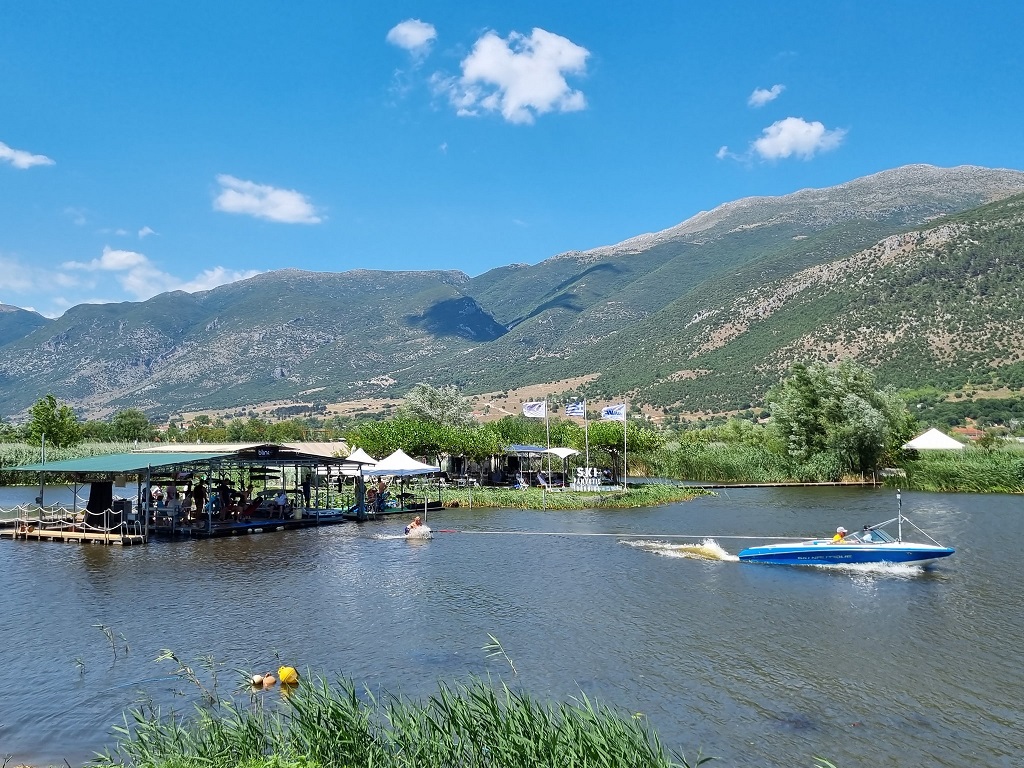 Next week Team GB's U14 and U17 skiers head to the same site in Greece for the European and Africa Youth Championships where Gavin Kelly will be back to officiate as a judge.