Gold for Freddie Winter & Silver for Joel Poland at World Championships
16 October 2023
Freddie Winter is savouring the best moment of his life. He won the men's slalom title at the 2023 World Waterski Championships. Joel Poland won Overall silver after staging an incredible comeback.
Freddie won the gold medal in spectacular style on the final day of the Championships at Sunset Lakes in Florida, USA. It's his second world title in the event but his first since Paris in 2017 and is the climax of a phenomenally successful season which has seen him on the podium at every major competition he's contested.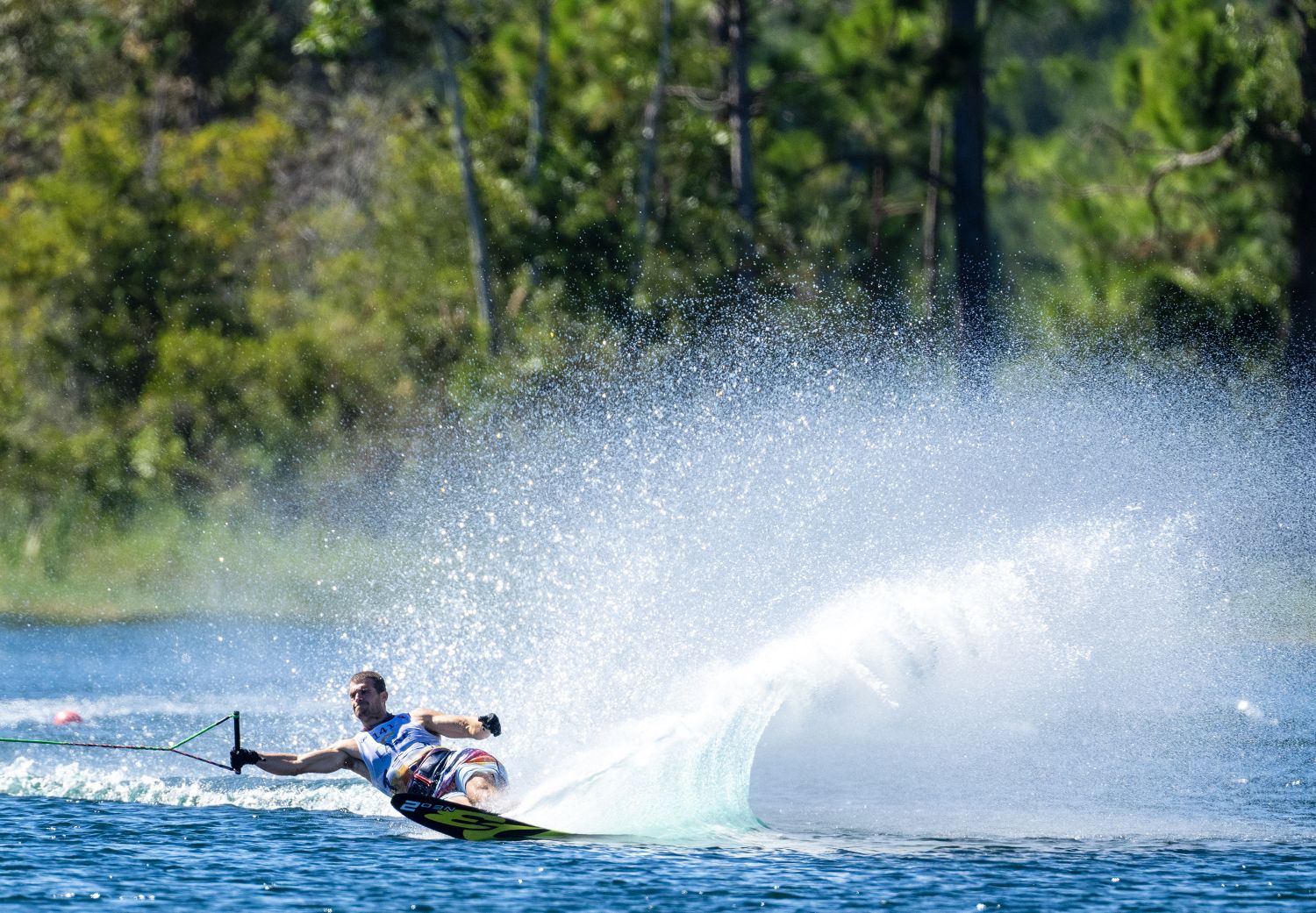 Freddie Winter on his way to victory at the 2023 World Championships. Photo Johnny Hayward
In challenging, windy conditions, his winning score was 4@10.25m ahead of the USA's Dane Mechler (3@10.25m) and Stephen Neveu of Canada (3@10.25m).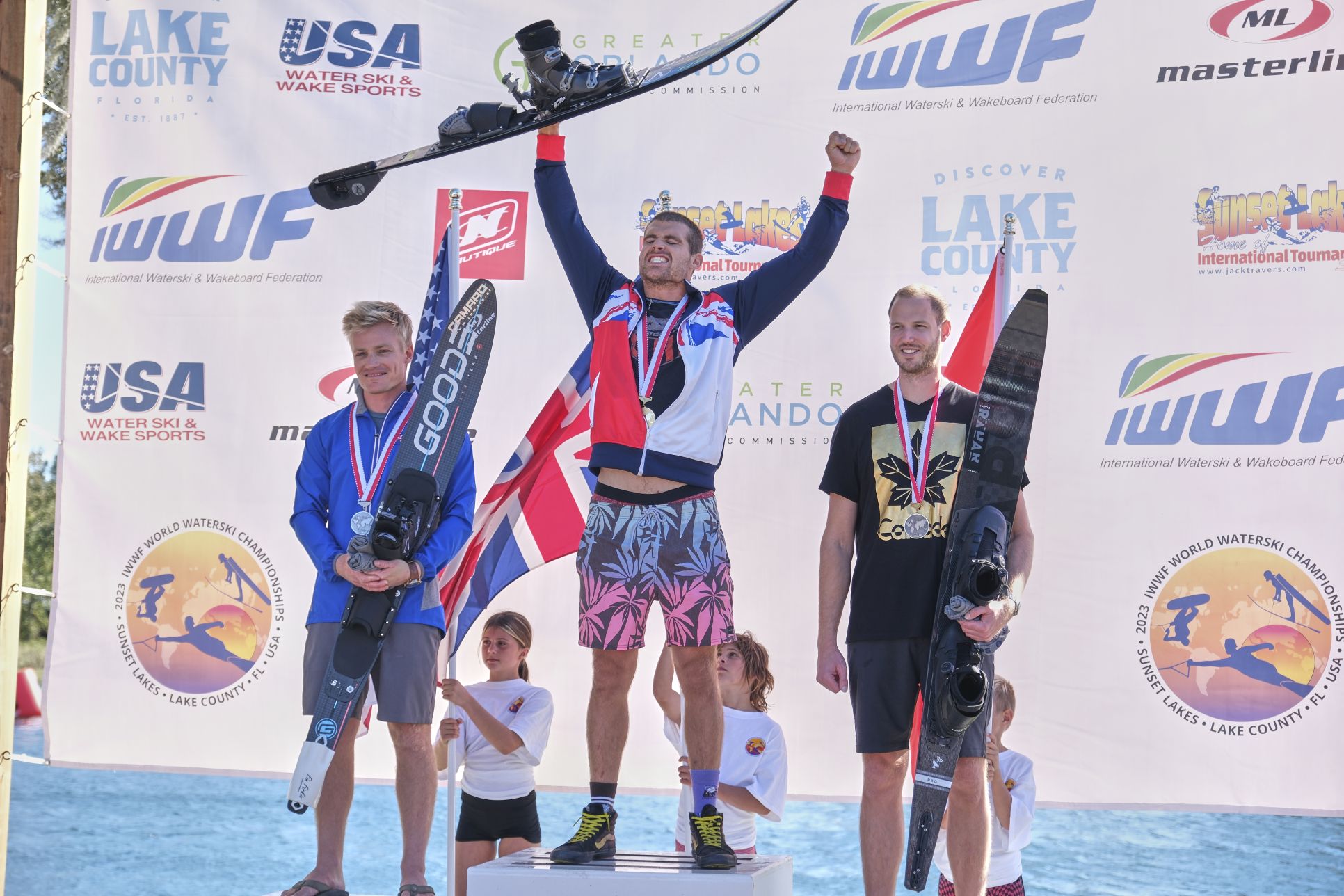 Men's slalom 2023 World Championships podium. Photo James Timothy
"Unbelievable, best day of my life. I'm so happy, I can't tell you," Freddie said. "I worked so hard for this. For the last two months I couldn't have done anything better I don't think. I really tried and it paid off. I didn't think it necessarily would. I'm so happy, I'm so happy.
"It's a cliché but it's a dream come true. Since I won in '17 I wanted to win again so I could join the people who've won multiple times. There's not many!"
Joel Poland was the only other Briton to make the 12-man slalom final. He went into it as top seed after the run of his life in the preliminary round saw him get through 10.25m for the first time. He is the only overall skier to have run that line length in the history of the sport. Joel could not match that feat in the final and finished 6th with 2@10.25.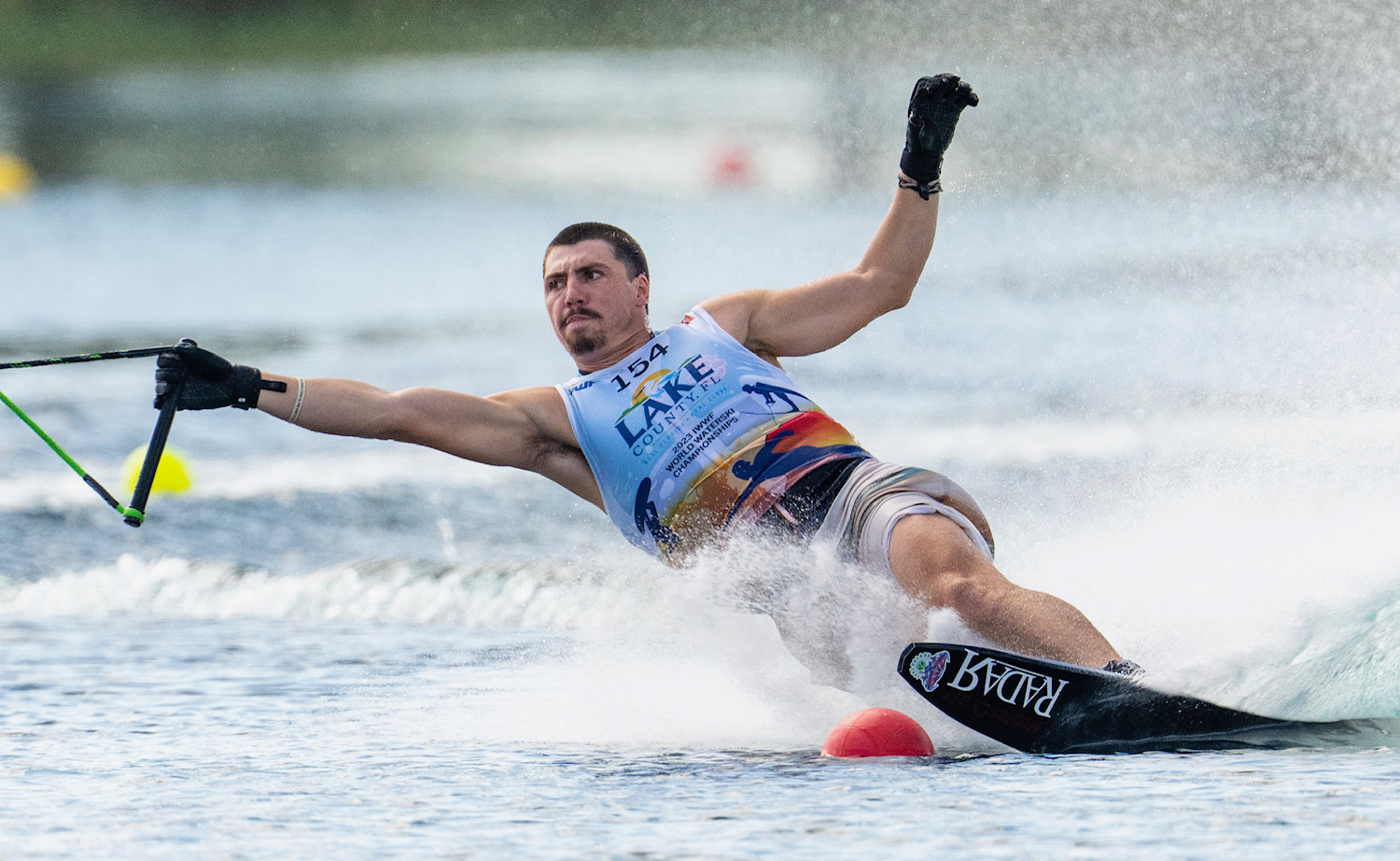 Joel Poland runs 10.25m at the 2023 World Championships. Photo Johnny Hayward
Joel, who is the Overall world record holder, went into the Championships as the defending Overall Champion. However, an early fall in the tricks event meant he faced a near-impossible task to retain the title.
Joel being Joel, though, very nearly did it. His superhuman effort in the slalom prelim followed by a big jump of 68.8 metres closed the gap significantly.
By the end of the competition his combined scores were not quite enough for the gold and he had to settle for silver behind Louis Duplan-Fribourg of France and ahead of bronze medallist Dorien Llewellyn of Canada.
"I think that's been one of the hardest pills to swallow this week of, you know, doing so well, being close, just missing out but, you know, I feel I gave it everything, I left it all out there," Joel said. "My only real regret is obviously that I fell in trick, but apart from that I gave it everything. I'm feeling happy and proud."
GB's other finalist, Jack Critchley finished 5th in the men's jump. The GB Team of six just missed out on a medal. They were 4th overall behind the USA (gold), Canada (silver) and France (bronze).
Congratulations to GB's 14-strong World Championships squad. There were some impressive performances, including several personal bests. Look out for full details in the winter edition of the BWSW magazine.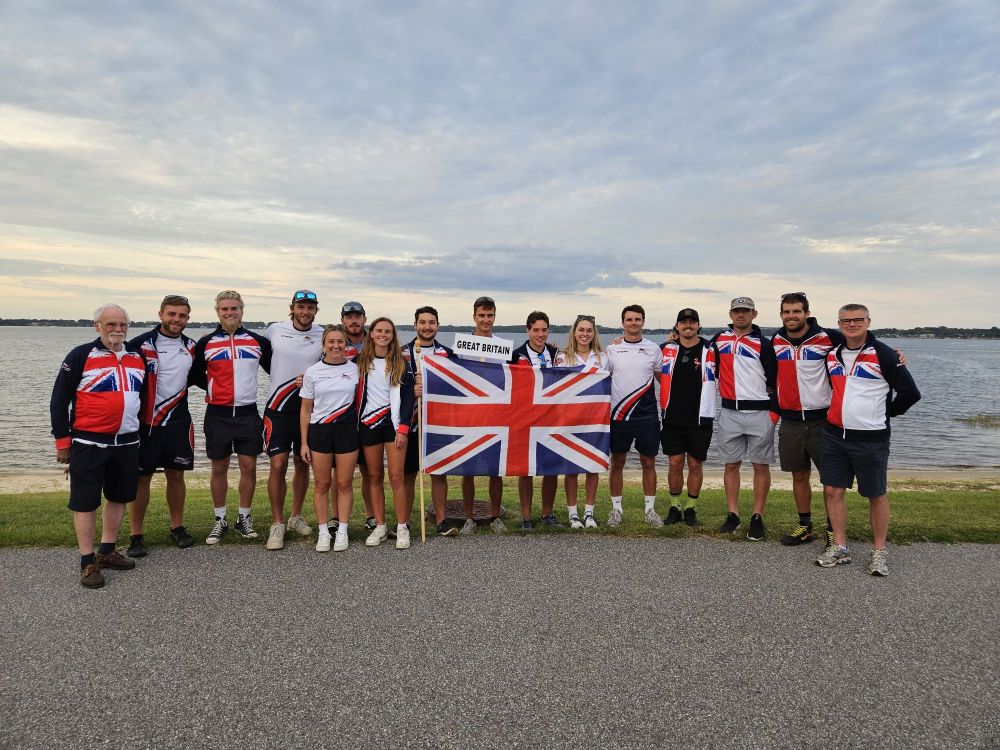 GB 2023 World Championships squad with Team Captain Steve Sopp and Team Physio Tom Williams
There's more content, including video footage and interviews, on our Facebook page and you can check out all the results of the 2023 IWWF World Waterski Championships here.