Q&A With Team GB Jumper Jack
21 June 2021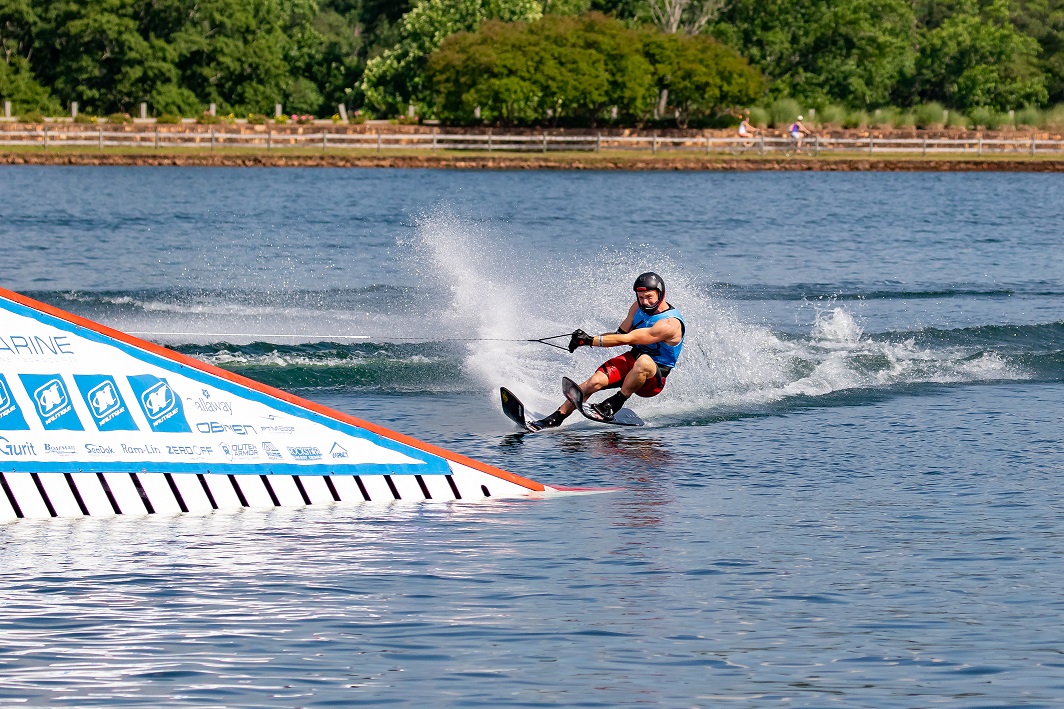 Photo credit: Ian Staples
Jack Critchley is GB's leading jump specialist with a PB of 70.4 metres. The 24-year-old came third at the prestigious Masters at the end of May and was fourth at the King of Darkness night jump on Saturday 19th June...
Q: Congratulations on your third place at the Masters. Tell us what it's like to podium at the biggest pro event in the world.
A: Being able to take another podium finish at the US Masters is something that I will always cherish. This is a tournament I have now been to three times, and I have managed to get on the podium at two of them. Everyone puts such a big hype on this tournament in the water ski community, and it is always a tournament that everyone wants to ski at. Therefore there is that added nervousness and fear of skiing at the tournament and not doing so well because of the difficult conditions on Robin Lake.
Q: At the end of last season you joined the small band of jumpers to go over 70 metres in competition. How tough was it to get there?
A: Yes, last year I managed to become the latest member of the 70 metre club (230ft). It really has been something myself and Kyle Eade at Ski Fluid have been working towards the past few years and changing my technique quite a lot to be able to accomplish this. Achieving this in a Professional tournament with all the best skiers in the world at the same event was a fantastic feeling, and doing it at my home site here in the US at Ski Fluid felt even better.
Q: Crashing is a hazard of the job and you had a big one at the World Championships in 2019. What happened and how long were you out for?
A: Unfortunately, crashing is a part of the profession, and the only thing you can hope for as a skier is that it doesn't happen very often. However, when it does happen, you then hope for no injuries. This wasn't the case at the World Championships in Malaysia 2019. At this tournament, I managed to make the finals and be seeded 4th last on the dock. On the second jump, I went out the back and dislocated my hip and sacroiliac joint in the process. This injury put me in a wheelchair with no weight-bearing for the first two months. After those first two months, I managed to get back on my feet with some crutches and was able to put minimal weight on the leg. This went on for another one and half months. After this period, I was able to work on the movement of my hip and strength back into that hip.
Q: Do you have a big ambition for 2021?
A: This year the Worlds are in the US at Sunset Lakes in Florida. This is something that I will be aiming towards and looking to redeem my last performance in a World Championship and go for a podium finish here. Other than that there are multiple Professional events around the US which I will attend and be looking to stand on the podium at all of them.
Q: Who's your ski hero and why?
A: My ski hero would most probably be Kyle Eade. He is a guy that has a similar background to me, and being from New Zealand, he also didn't get the opportunity to ski all year round, and struggled to spend a lot of time in the US. Away from this fact, he managed to become one of the best skiers in the world. And even after his injury he is still able to now run the best ski school in the world here in Florida.
Q: You're based at Ski Fluid in Florida now. What's your average day there like?
A: We have a lot of fun at Ski Fluid, and we often have busy days with skiers from around the world that come and ski there. So, therefore, my days consist of driving the boat, coaching skiers, taking advantage of the headwind that we always have, and getting a set in myself, and when those jobs are done, I cut some grass.
Q: Will you be back in the UK this year?
A: Unfortunately, because of the busy schedule here in the US and Covid 19, I'm not going to be able to make it back to the UK this year.
Q: What one piece of advice would you give to anyone who fancies learning to jump?
A: I encourage everyone to try jumping. It is a lot of fun. However, when I have a skier that wants to jump for the first time, I think the most important thing is to make sure they are comfortable on their skis riding around before they hit the jump. Then, once they are comfortable and can cut from side to side with complete control and balance, they hit that big red.
Q: What do you like doing when you're not skiing?
A: I ride my motorbike as much as possible. We have multiple places to ride here in the US. It's great exercise and a lot of fun.
Q: What's your favourite food?
A: My favourite food has to be a big piece of Picanha. My girlfriend's parents cook the best, therefore it's always what I ask for before a big tournament here.
Q: Favourite show on Netflix?
A: My favourite show has to be Peaky Blinders. I've watched it too many times and will most probably start watching it over again soon.
Q: Most irrational fear?
A: My most irrational fear and something that's actually happened to me before but a long time ago, is that my bindings come off my skis off the top of the jump. So, therefore, I have an obsession with checking and rechecking my binding screws every time I go out on the water.
Q: Off water training?
A: I don't get too much time after spending all day at the lake, but I like to get out on the motorbike for some fitness on the weekend or on the pushbike.